Engagement Photography
I include Engagement sessions with most of my wedding collections. It's
nice to work together before the wedding and create photos with a more casual feel to them. This is often the first time the couple has had "official" professional photos taken together.They frequently feel a bit nervous in the beginning but after a few minutes we're all having fun and enjoying the photo shoot. I like to do the sessions at places meaningful to the couple, or I have some favorite San Diego engagement locations.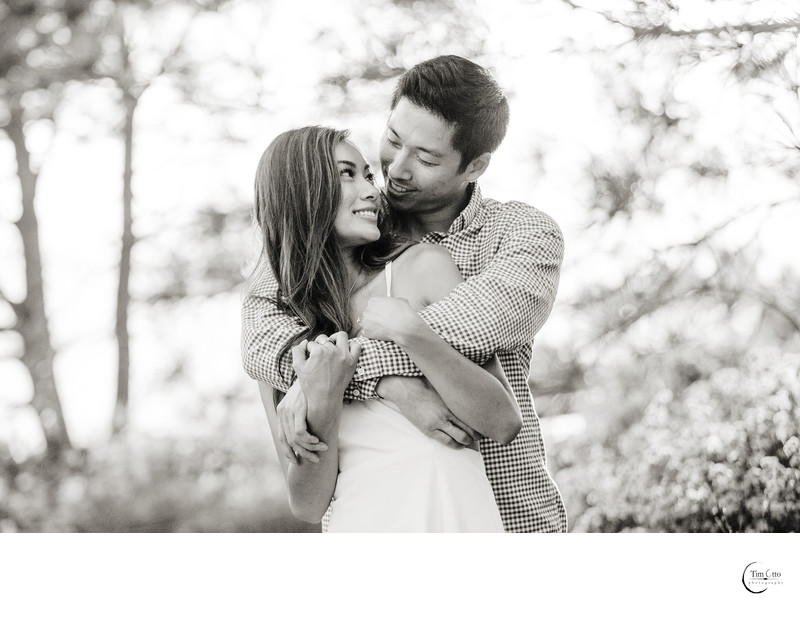 Little Italy is a fun spot; everyone loves the sign, and the different-colored walls and storefronts make for great backgrounds. Balboa Park has so many unique areas. It has amazing architecture, incredible doors, fountains, rod iron gates, strange tree roots, wood bridges, botanical gardens… just about everything is there. Windansea and La Jolla Cove are great locations for beach photos with the seascape of rocks, beach and ocean; they also feature some wonderful sunsets. Downtown San Diego in the Gaslamp District makes for some great urban photos. There are so many incredible things to photograph down there, including trolleys, taxis, train tracks, fountains, metal art sculptures, brick buildings and cool doors… lots of great urban texture. It might be my favorite engagement location in San Diego. Centennial Park is another good spot. Located on Coronado, it has a stunning view of the San Diego Skyline. There is also a small little beach that is nice to use. The Historic Hotel Del Coronado makes for another great location with it's beautiful white sand,rocks and amazing sunsets.